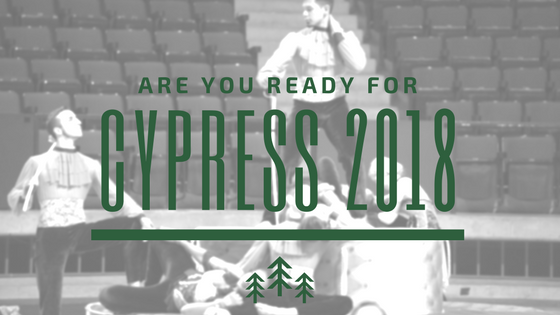 2018 Cypress Independent Auditions
Hey Cypress Fam!
It's that time again!  We're so excited for 2018 that we're getting started early!  We can't wait to see everyone at our auditions on September 10 & 17.  Check out the information below for more details, and feel free to contact us if you have any questions.
Where are auditions?
Klein Oak High School – 22603 Northcrest Drive, Spring, TX 77839 – Park on the side near the band truck and look for the flag. 😉
How much does it cost?  Can I pay with check or card? 
The audition fee is $50 and goes towards your dues if you are offered a position in the cast.  The $50 fee must be paid in cash.
What should I wear?
Please wear all black, form-fitting dance attire that allows you to move easily and remain comfortable and presentable all day.
Do I need to bring my own equipment?
We will provide flags and will have a few weapons available, but please bring your own weapons if you can.
Do I have to come to both audition sessions(September 10/17)?
You are not required to attend both audition dates.  The final cast will be established after the September 17 audition, but the more we are able to see you perform, interact with cast and staff members, and even improve between the audition clinics, the more opportunities we have to see how great you are!
If I attend both auditions, do I have to pay the $50 audition fee twice?
No, you only pay the $50 audition fee once, whether you attend one or both audition dates.
What's the plan for the day?
Registration will be from 9:15 to 9:45.  The mornings will be focused on movement and after lunch we'll shift to equipment. At the end of the day, we'll wrap up with some small group performances.
Can I bring a friend?
Of course! We love friends!  Bring all the friends!
Do I have to fill out the application ahead of time?
No, you don't have to fill out the application ahead of time, but if you can fill it out online, it will help you get through registration faster.  You can also fill out your medical forms ahead of time, but make sure to print, sign, and bring them with you to auditions!  If you forget, we'll have plenty of extras for you to fill out at registration.